Sure, some great films will be honored at the 90th Academy Awards this year (some of which even made our list!), but praising movies for advancing the cause of animal rights in the entertainment industry isn't the focus of those awards.
That's why PETA's Animals in Film and Television Division created its own awards to highlight 2017's best animal-friendly films and actors. Their unprecedented storytelling and creative imagery proved that including positive animal rights messages and not using live animals promote kindness to animals and are worthy of top honors, too! For the first annual PETA Oscats, we congratulate the following movies and stars:
In addition to creating a 100 percent digital jungle full of effervescent elephants and hulking hippos, this marvel of computer-generated imagery (CGI) managed to do what no one expected: outdo the trailblazing original.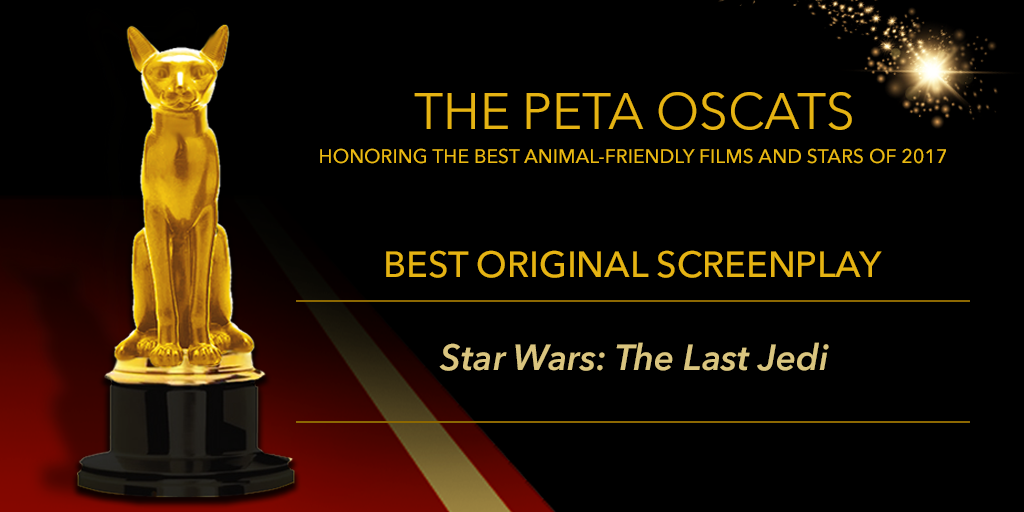 The writers of this epic story wove in messages of compassion for animals: Two characters set free fathiers (horse-like creatures) used for racing, and Chewbacca chooses not to eat a porg (a bird-like creature) after seeing a group of porgs weep over their dead companion.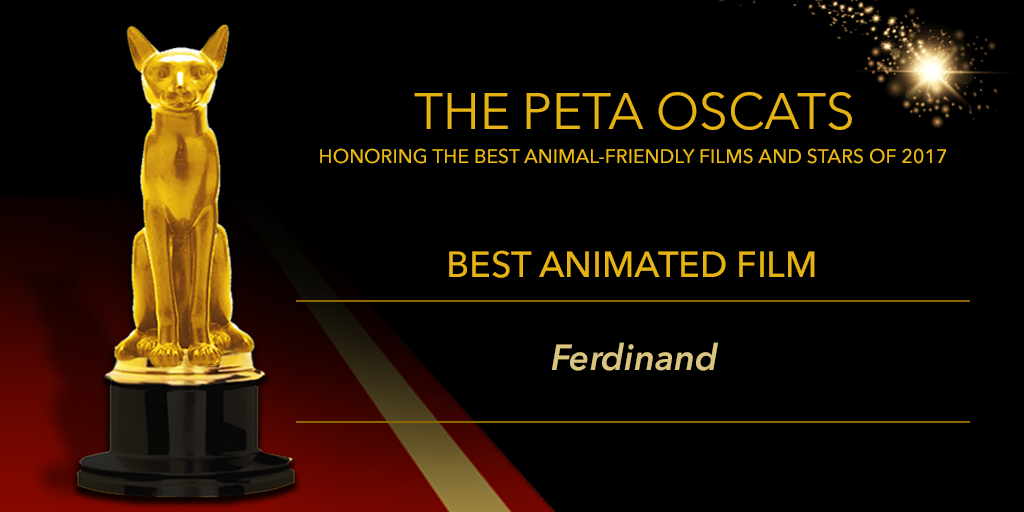 It's no bull that this story stole everyone's hearts. This film is a kind reminder that bulls pick flowers, not fights!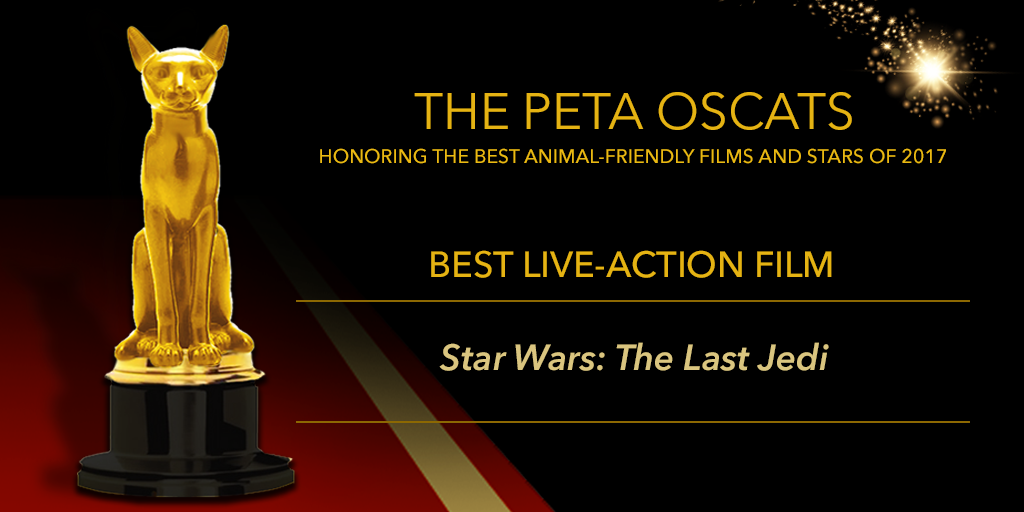 Not only does this film include positive animal rights messages—encouraging kindness toward every species in every galaxy and showing that true heroes help animals and don't hurt them—it also uses CGI animals.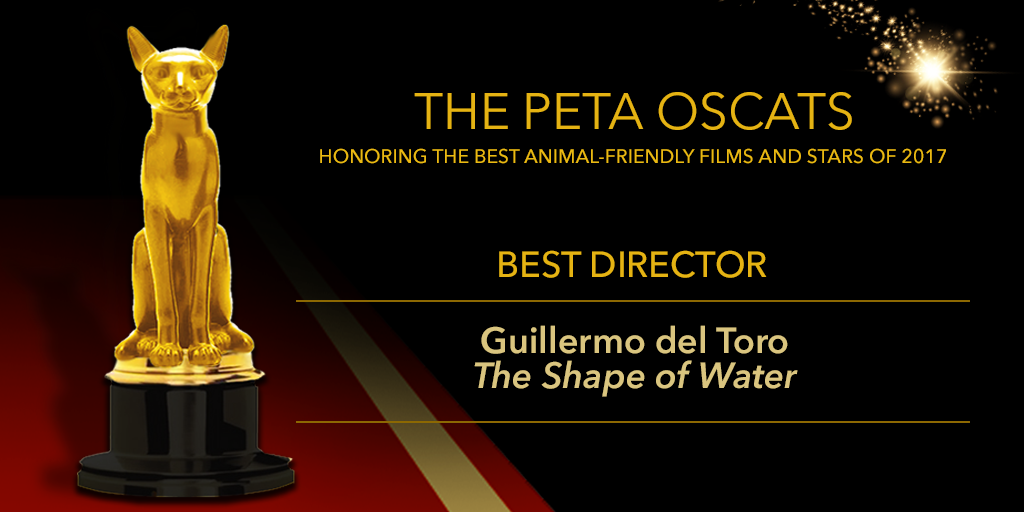 This film encourages equal consideration and kindness for others, without exploiting live animals. Guillermo's brilliant movie The Book of Life also includes pro-veg and anti-bullfighting messages, so we know that he has a soft spot for animals, and we're grateful for that aspect of his work!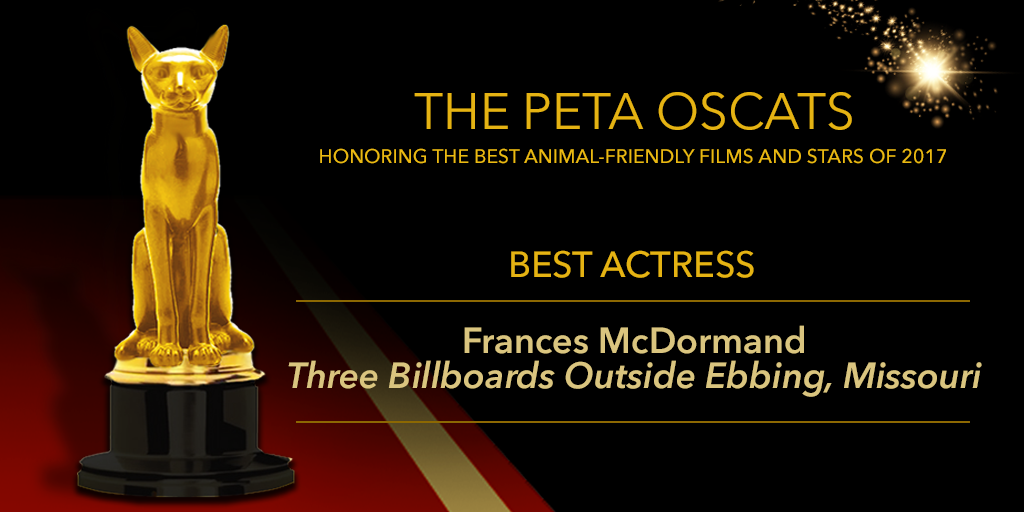 In the film, a grieving mom with a gruff exterior shows her soft side: She thoughtfully puts a bug who'd fallen onto his back gently on his feet. (Yes, we noticed!)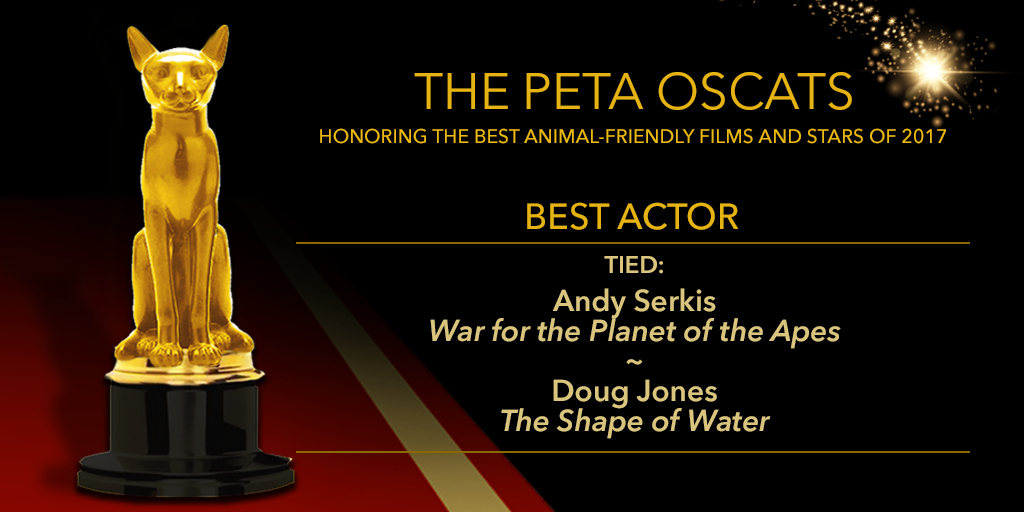 Thanks to Andy's brilliant performance as Caesar the chimpanzee, no real great apes were forced to perform for this film. (Are The Square's filmmakers paying attention?) He has also advocated for great apes used in the entertainment industry and campaigned for a chimpanzee languishing at a roadside zoo.
As Amphibian Man, Doug gracefully portrayed the sadness and desperation of being abused and chained—the harsh reality for animals in laboratories and circuses or who are kept chained up in backyards.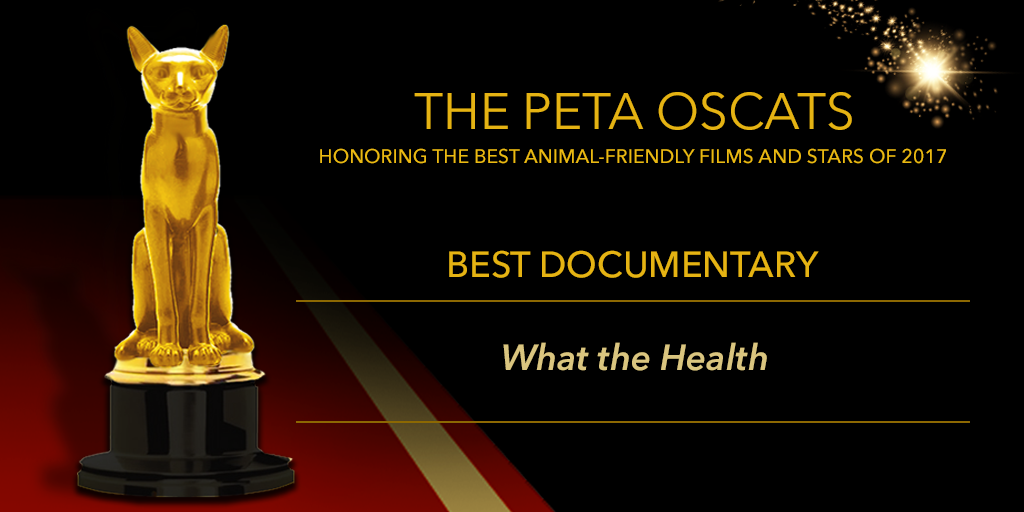 This film is prompting more people to go vegan and therefore saving countless animals!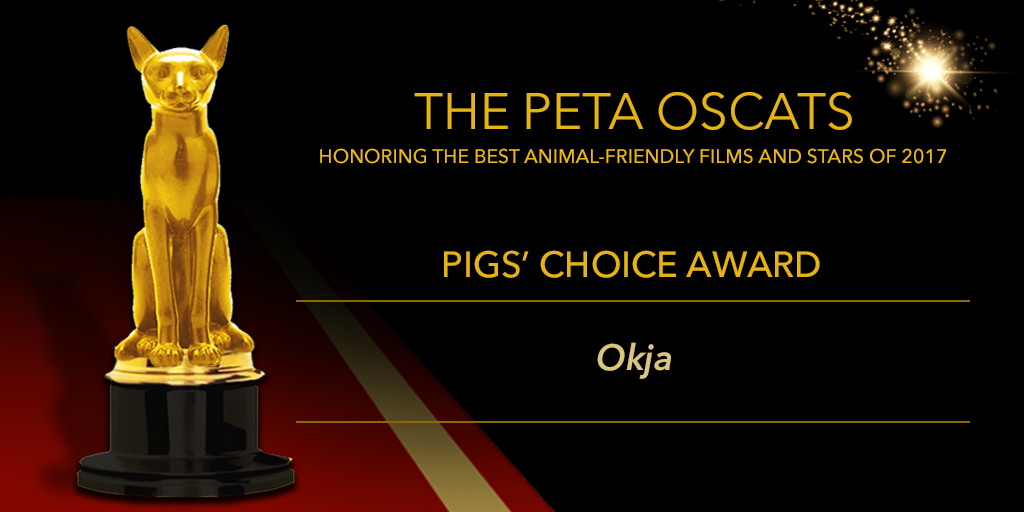 A young girl's journey to save her best friend—a fascinating "super-pig" named Okja—turned the bacon obsession on its head. Just like Esther the Wonder Pig, Okja is changing the world one heart at a time.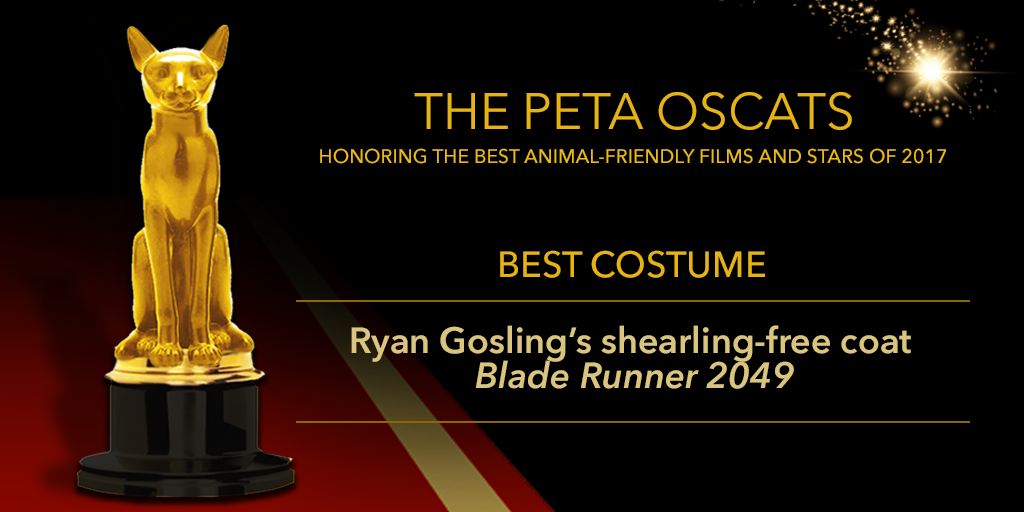 Ryan's entirely vegan jacket is as gorgeous as he is—and shows that the future of fashion is cruelty-free.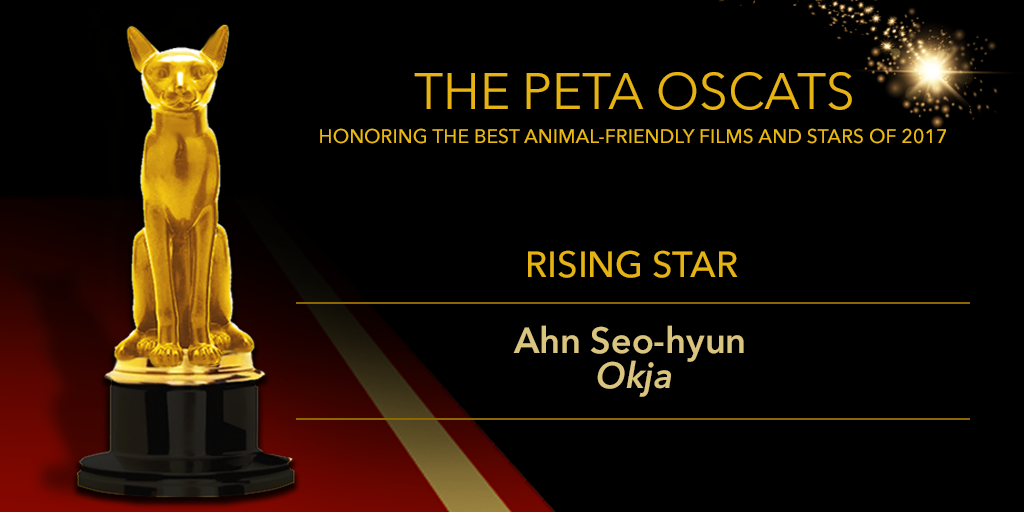 Seo-hyun's mission to save her "super-pig" companion in the film is inspiring young people everywhere to consider who's on their plate. As PETA President Ingrid Newkirk has said, "A rat is a pig is a dog is a boy." If we treated pigs like we treat our cats and dogs at home, the world would be a far kinder place.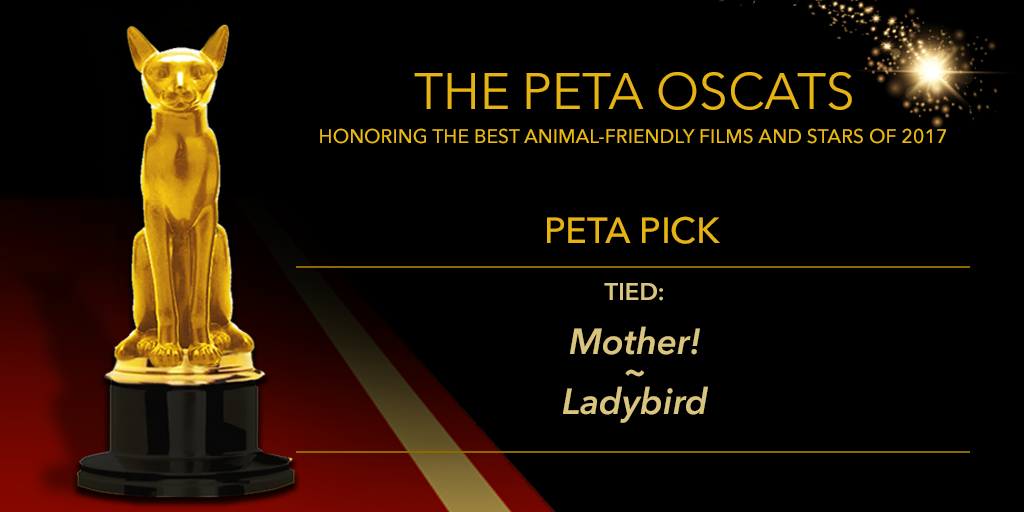 Mother! Why? Because Darren Aronofsky, one of Hollywood's most talented directors, doesn't exploit live animals in his films—even ones like Noah, which revolves around animals. We love Darren!
Ladybird: Why? Because a) Ladybird (duh!); b) we love star Saoirse Ronan, who spoke in favor of closing Irish fur farms; and c) Laurie Metcalf! (Stay tuned for a collaboration between the brilliant actor and PETA.) 
Inspired by these winners?
While you may not be walking down the red carpet, you can still be a star for animals. Join the many Academy Award winners and nominees who care about animals by going vegan, pledging never to wear fur, or adopting—never buying—a companion animal!
Note: "Oscar," "Oscars," "Academy Award," and "Academy Awards" are registered trademarks of the Academy of Motion Pictures Arts and Sciences, which isn't affiliated or associated with PETA, nor does it endorse, sponsor, or otherwise approve of PETA's Oscats.